---
1. Bergan
---
---
CHECK THE PRICE NOW
---
2. Petstages
---
---
CHECK THE PRICE NOW
---
3. SmartyKat
---
---
CHECK THE PRICE NOW
Many people love having cats as pets as they are affectionate and adorable. Cats can brighten your home with their presence and ensure that you never feel bored or lonely when they are around you.
Cats have an instinct to hunt and prey for their food, which if not satisfied could make them feel uneasy and stressed.
In such situations, your cat needs an alternative channel to channelize her energy that satisfies its natural instincts. This is where accessories such as the best cat toys play an important role as they help satisfy all the cat's instincts and natural needs.
SHOW ME THE TOP 20 CAT TOYS NOW
Why Cats Toys Are Important?
Cat owners often need to leave their cat alone when they go to work or run errands. In such situations, they often worry about their well-being. Having some cat toys will keep them entertained when you are away.
They are ideal to divert the cat's attention and ensure it stays happy. Cat toys are also important for the overall development of your cat's personality.
Playing with toys ensure that she gets adequate exercise for a healthy life. When cats get bored or frustrated, they end up scratching furniture, shoes, and drapes, which could turn out to be a very costly affair for you.
Some of the best cat toys for indoor cats help them play and grow in a safe and healthy environment inside your house without the need for going out that may result in hurting them or getting lost.
Here are a few more reasons why cat toys are important.
1. Develop Motor Skills
Some toys are engineered with moving parts that require the cat to move or push an object to get a treat or feed themselves. Some toys like balls, allow them to chase around and catch as a part of their playing activity. All this helps your cat to develop better coordination and motor skills.
Since cats sleep more than 16 hrs a day, they need good exercise when they are awake. Playing with toys will keep them active and energized and also keeps them away from boredom.
2. Exercise For Their Body
Pet cats live the major part of their lives indoors by spending the best part of their day just sleeping or lazing around and often getting up just around meal times.
This could eventually lead to the cats getting fat and having weight problems, which could be injurious to their health in the long run.
Creating a purr-fect playground with the best cat toys for your feline will keep them active and help in maintaining a healthy weight.
3. Bond With Your Cats
The more time you spend with your cat, the better she will bond with you. Playing with cat toys offers an excellent opportunity for both you and your cat to bond with each other and have a great time full of fun and memories that will last a lifetime.
Some of the best interactive cat toys will help in building a bond with you and your cat. It is essential that you use toys that do not have any sharp edges so that it doesn't hurt your kitty while playing or sharpening their hunting skills.
While the cats living in our homes are not predators, and they do not require high-level hunting skills their famous cousins have, they still need to have some basic hunting skills to hunt and catch the naughty mouse in your home.
Some of the motorized and mobile toys available nowadays help your cat sharpen their hunting skills and ensure that they have the agility and speed to move rapidly, whenever required.
4. Relieves Stress And Boredom
As in humans, cat's also undergo stress. Cat's anxiety and stress can be a serious problem if left untreated. To ensure that your cat's stress levels don't build up, you must make sure that it has enough toys to play and divert its attention.
As a pet owner, it is your responsibility to get them toys that keep them active, it could range from fluffy mice or balls more interactive toys. Playing with these types of toys will entertain your cat and keep it occupied enough to reduce its stress levels.
Factors To Look For When Buying The Best Cat Toys
Cat toys come in all forms of shapes and sizes with each having their distinct utility and function to help in improving the overall physical and mental development of your cat. When you are looking for the best cat toys, there are various factors you need to keep in mind; let's take a look.
1. Durability and Safety
Just like you buy toys for your kids, it is important to check for sharp edges and small swallowable parts in the toys you buy for your cats.
Most of the interactive toys will have strings attached to it to attract the cats. It is essential that you ensure that these strings are removed so that it doesn't tangle your kitty when it's playing.
Inspect your cat toys periodically for any loose clamps, pins or wires. Even a small part swallowed, can put your cat's life in danger.
2. Types Of Cat Toys
As you can see, there so many different types and models of toys available in the market and it is very difficult to make a proper choice. The best solution to handle this problem is to pick up a few assorted toys and see, which toy your cat spends more time with or keeps returning too.
After some time, you will better understand their choice and be able to get them the toy that's best for them. Here are a few types of cat toys.
Toys with scratch pads: Cats love to scratch to mark their territory and also to relieve stress. It is also a part of their natural instincts since cats in the wild are used to sharpen and clean their claws before going on a hunt. It is something that we cannot control and should plan for when we are getting a cat as a pet. Some cat toys have in-built scratch pads, which the cat can use for scratching their claws. These pads can also be replaced easily, once they wear out over a period of time. Toys with multiple scratching pads are best suited for cats and will last longer as compared to other toys.
Toys designed like tunnels: If you have a cat in the house, you will notice that they love moving and squeezing around narrow spaces and ledges within your house. This is a part of their curious nature, wherein they love to explore every nook and corner of your house and mark it as a part of their territory. Buying a toy, that has a tunnel or is shaped like a tunnel will go a long way in satisfying this natural curiosity that cats have. The cats will love exploring the tunnels. Some of the tunnels even have some toys hanging at the exits for your cat to play and interact with as a part of their playful activities.
Teaser Wands: These are simple stick-shaped wands with a soft toy or feathers hanging by a string at the other end. The more elaborate teaser wands have a complete set of different colored feathers or soft toys, giving them a very premium and rich look. They also come with long extendable handles for your comfort. You can move the wand in any random direction you want or in circles for your cat's entertainment, as it tries to catch and hold the toys or feather attached to the string at the end of the wand. This is a good toy for those people who love to interact and play with their cats and like to spend quality time with them.
Balls: Balls are considered to be a cat's favorite toy as their movement is very similar to the cat's favorite prey. In fact, balls are considered as one of the best cat toys to keep them busy for long periods. Some of the premium balls also have LED lights in-built or even a bell inside them to attract your cat's attention. Balls are highly affordable toys, so you could keep a couple of them around your house as play pieces for your cat. The balls ideally need to be a durable material that does not break while your cat is holding it.
Toys with Catnip Toys: Catnip is a herb that is used in toys to stimulate a cat's senses and keep it in a happy and relaxed mood. It is usually found in readymade stuffed soft toys such as mice or balls, and can also be added by you separately if you want.
Food or Treat Dispenser Toys: Like all livings beings, cats also like to be rewarded for doing a task successfully. Food dispensing toys available nowadays that caters to this specific sense of fulfilment felt by cats by rewarding them with treats and food bits when they manage to open or close a box or solve a puzzle. The difficulty levels of these toys can be changed as a cat grows and begins to solve these puzzles easily to give them something more challenging to do while seeking or hunting for their food.
3. Size Of The Toy
When shopping for the best cat toys, you must not select a larger toy for your pet. If the toy is big, your cat might consider it as its opponent and would only prefer to fight with it rather than play.
4. Sound Of The Toy
Some of the cats may find toys that make sound interesting; but for kittens, there are chances of motorized toys to scare them.
If you are choosing a motorized toy, always go for toys that do not make whiney sounds that trouble your cat. Every cat is different, therefore it is better that you purchase the toys based on its personalities.
5. The Toy's Texture
Texture plays an important role in a cat's life. If you have been with your cat for a while, you would have known his likeliness towards textures.
From litter boxes to their sleep mattresses they need everything with a texture. In the same manner, when it comes to playtime, he may prefer a softer toy to bite or bat around. You can choose more of fabric or fur-oriented toys for your little felines.
These are some of the various factors you need to look out when you are purchasing the best cat toys on Amazon.
You must make an informed choice from the various models available in stores and online. Most of the toys even have an exchange policy, in case you and your cat are both not happy with the way the toy performs.
Top 20 Best Cat Toys 2020
1. Circular Cat Toy with Built-in Scratcher By Bergan
The Bergan's Turboscratcher circular cat toy with a built-in scratcher is one of the most popular toys on Amazon with almost 10,000 reviews, a rating of 4.6 out of 5 and Amazon's Best Seller tag.
This beautiful circular cat toy is designed to provide hours of playful entertainment to your cat. It comes with a built-in scratchpad that helps your cat sharpen and clean its claws, regularly.
The two-in-one toy consists of a ball and a built-in scratch pad that is specially designed to keep your cat engaged while reducing its boredom.
The scratchpad is detachable and can be replaced when it becomes old or wears off. More than 80% Amazon shoppers recommend this as the best interactive cat toy worth every penny.
CHECK THE CHEAPEST PRICE ON AMAZON!
2. Multi-Level Cat Tracks With Moving Balls By Petstages
The multi-level interactive toy is designed to hone the hunting and chasing skills of your cat. The toy consists of 3 different levels of tracks with 3 colored balls to attract the cat's attention.
The toy is strong and sturdy with a non-slip base to prevent unwanted movement. This simple ball and track game will keep your lazy felines get plenty of active exercises.
Since it keeps the pet healthy and happy, it is voted as the best cat toys for indoor cats by 78% out of 8500+ buyers online. This cat toy also has the Amazon's Best Seller tag.
CHECK THE CHEAPEST PRICE ON AMAZON!
3. Electronic Hidden Prey Toy By SmartyKat
This will definitely be one of your cat's favorite toys, once you switch it on and let your cat chase the hidden prey under the fabric that looks like an upside down umbrella.
A combination of lights and unpredictable movements of the toy under the fabric replicate the actions of a prey and capture your cat's attention for hours of endless play.
It also helps develop the cats motor and eye coordination skills while providing an outlet for much needed exercise to them. This beautiful and very useful toy comes with two speed levels that you can set as per your choice.
It has been tested for safety, so you can rest assured about the safety of your feline friend and even your child.
CHECK THE CHEAPEST PRICE ON AMAZON!
4. Unique Cat Drinking Water Fountain By Veken
Ensure your cat quenches its thirst in style with this safe and hygienic to use water fountain that can be placed comfortably inside your home.
This water fountain has three filtration layers made of cotton, activated carbon and ion exchange resin, to ensure that the water your cat drinks is of the purest and the best quality.
To avoid water spilling all over your house, it comes with a designer silicone pad that can be placed under the fountain to capture the water splashing from the fountain. This water fountain is very durable and long-lasting as it is made of very high-quality PP resin.
The capacity of this water fountain is 2.5 liters, ensuring that your cat always has enough water to drink, whenever it is thirsty.
Moreover, the manufacturer provides 3 replacement filters as a part of the water fountain system. Another welcome feature is that it is BPA free, which ensures your cats can safely drink this water.
With all these features, no wonder, it has thousands of positive reviews by Amazon buyers.
CHECK THE CHEAPEST PRICE ON AMAZON!
5. Beautiful Mice-Shaped Catnip Toys By SmartyKat
Ranked among the top best seller toys on Amazon, this catnip has received thousands of positive ratings and reviews.
This beautiful mice-shaped toy is perfect for your cat to play for hours and have fun. It is an environment-friendly toy with a fiber fill inside. It is made from 100% recycled plastic.
The toy mice are spiked with pure catnip that can cause a burst of activity and a sense of wellness among cats.
Adequate care has been taken care to ensure that the catnip used in these mice toys are prepared without using any harmful chemicals or pesticides that may cause health problems in your cat.
CHECK THE CHEAPEST PRICE ON AMAZON!
6. Amazing Interactive Toy & Feeder For Cats By Cat Amazing
This toy is a perfect playtime companion for your cat as it also helps in developing healthy eating habits among them.
It helps sharpen a cat's natural instinct to explore and search for food, hidden objects, and also rewards it for its efforts. You can even hide a cat treats and dry food among its different puzzles for your adorable pet to find and eat.
It is also recommended by veterinarians to promote slow eating habits among cats and managing their mealtimes. The puzzles have three levels that you can customize, and this makes it more challenging as the cats learn how to play with them.
This toy is considered as one of the best interactive cat toys that promote both mental and physical activity among cats and help develop their overall well-being.
CHECK THE CHEAPEST PRICE ON AMAZON!
7. Multi-level Fun Towers With Interactive Gameplay By Upsky
Three different track levels with six colorful balls make this a great toy for your cat to spend hours playing and exercising that she requires every day.
Designed to boost your cat's mental and physical capabilities, this toy encourages them to push and roll the balls with its musical tingling sound.
Its detachable towers make it very easy to clean, while its non-slippery base ensures the cats don't slip while playing with it.
The toy is also very sturdy and durable since it is made of long lasting, tear resistant PP material giving your cats many hours of enjoyment and also keeps them within the safe environment of your house.
CHECK THE CHEAPEST PRICE ON AMAZON!
8. Fling & String Along Cat Toy By Moody Pet
This is a very innovative award-winning toy that has received many awards from some of the best cat magazines and trade shows across the world. The toy is simple to operate and it doesn't require any assembling.
Just hang it in your cat's favorite corner and watch it play as the string moves around through a battery operated motor. Cats can catch the string with the claws and even hold it safely with their mouth to stop it from moving.
Once they let it go, it starts moving again making them reach out it again. It is a cleverly designed toy that will provide your cat with hours of endless fun and much needed exercise.
The bonus is that you get lifelong free part replacements if there is any damage caused in the toy.
CHECK THE CHEAPEST PRICE ON AMAZON!
9. Unique Rainbow Colored Cat Charming Wand By Cat Dancer
The unique toy is designed to charm your cat with its colorful twist. This toy is made using an unbreakable polycarbonate wand with a rainbow colored ribbon tied on one end.
You can create the most amazing shapes and designs with the ribbon as your cat tries playfully to catch it and hold it, giving it an adequate exercise in the process. This toy is so easy to use and even your child can use it to play with your cat or kitten.
The ribbon is made of washable polyester and has non-toxic colors so that you can easily clean and dry it whenever it gets dirty. Ninety percent of buyers have given positive reviews on Amazon.
CHECK THE CHEAPEST PRICE ON AMAZON!
10. Assorted Cat Toys Variety Pack By Fashions Talk
Now your cat will never, ever feel bored, thanks to this cat toys for bored cats. Feathers, balls, mice, catnips you name it, it's all in there in this jumbo toy pack. All these toys will keep your cat occupied and happy for hours, distracting it from any untoward activity.
Each individual toy is well-designed and bound to attract your cat's attention due to its bright colors and the soft material it is made with. You can even gift your cat one toy at a time from this huge pack, whenever your cat is obedient and listens to you.
Toys are an integral part of your cat's mental & physical development, so always make sure you buy them something that always keeps them engaged.
CHECK THE CHEAPEST PRICE ON AMAZON!
11. 24 Toys Value Pack By Youngever
One of the Amazon bestsellers, this toy pack is worth checking out. It contains an amazing collection of different toys right from a Cat Tunnel, Cat Teaser Wand, Feather Toys, Fluffy Mice, Crinkle Balls and Cat Springs all of which promise to give your cat hours of enjoyable play and exercise in the safety of your home.
The toys can even be shared by multiple cats, so you don't need to buy separate toys if you have more than one cat at home. It is one of the best cat toy to keep them busy playing together in case you need to go out to work or run errands.
CHECK THE CHEAPEST PRICE ON AMAZON!
12. Catch The Laser, Interactive Electronic Toy For Cats By Friends Forever
Cats are usually attracted to bright things. Friends Forever's interactive laser cat toy is the first of its kind laser toy created to entertain cats. A hidden auto-rotating pointer creates a laser beam in a randomized motion challenging your cat to hunt and catch it.
The uniqueness of this toy and the rotating light attracts your cat's attention motivating it to try and stop it with its paws. This toy can be used both indoors and outdoors to help your cat exercise within a controlled, safe environment.
There are 3-speed settings that you can adjust to ensure your cat never gets bored. It even has an auto stop function that ensures your cat does not overexert itself while playing with it, making it one of the best electronic cat toys available in the market.
CHECK THE CHEAPEST PRICE ON AMAZON!
13. Catch The Ball, Roller Circuit For Cats by Catit
An interesting peek-a-boo toy that will keep your cat glued to it. The high-low alternative circuit design prompts the ball to move at high speeds within the tracks, in beautiful circular motion.
There are also large openings among the tracks where your cat can try and catch the ball and even chase it, grooming its natural hunting instincts in a fun and playful manner.
The entire track is made of 8 interconnecting pieces that can easily be assembled whenever and wherever you want. Looking at the present reviews by several pet owners, this product can be a great buy for those looking for the best cat toys for bored cats.
CHECK THE CHEAPEST PRICE ON AMAZON!
14. Food Digging Unit For Cats by Catit
If your cats have the habit of gulping down the food, the Catit Senses 2.0 Digger is going to be a great choice for you, as it helps your cats to slow down their eating process adding a bit of fun and play to it. The feeder is equipped with tubes that can be disassembled and cleaned.
The tubes are available in different diameters and lengths so that you can interchange them to give your cats a new challenge every day.
The digging unit has a sloped surface to collect dropped pellets and prevent spillage on your carpet. It is also easy to clean and dry so that you can offer your cats their food in a healthy and hygienic environment.
CHECK THE CHEAPEST PRICE ON AMAZON!
15. Jumbo 28 pcs Cat Toys Set With Storage Bag
Miobote's assorted pack of 28 jumbo pcs cat toys is a great gift you can give to your cats. These toys come in a reusable storage bag, which can be used to keep the toys intact.
This jumbo pack has 28 assorted toys made using high-quality, non-toxic durable materials and dyes that are safe both for your cat and the environment.
These toys have been designed to hone the natural hunting instincts of your cat in a playful and fun environment within the safe premises of your home. This toy fits all your cat's needs and also gets them to exercise without actually being forced to do so.
All the toys in this pack are tested to be safe and durable before shipping to give you a satisfying experience. This product is indeed a great buy when compared with similar items under $25.
CHECK THE CHEAPEST PRICE ON AMAZON!
16. The Complete 29 pcs Cat Toys Set By Ailuki
Have you ever thought of gifting your feline friend with something unique that keeps them engaged round the clock? Well, Ailuki's Complete 29 pcs Cat Toys set is the best choice. Now your kittens and cats have no reason to be bored.
Thanks to the huge variety of assorted toys contained in this beautifully packed toy set. An interesting collapsible cat tunnel along with a cat teaser wand and interactive feather toys will ensure that your cat can play with this set for hours every day.
All the toys are made from safe non-toxic materials for the health and safety of your cats whenever they play with them.
This toy set is also useful for households who have multiple cats and need to keep them occupied so that they don't get into any mischief or fight with each other.
CHECK THE CHEAPEST PRICE ON AMAZON!
17. Electronic Feather Rotator with LED lights By Petfusion
This is a highly-interactive toy from Petfusion that promises hours of fun for your cat. What make it even more special are the beautiful LED lights built inside this toy that will capture the attention of your cat. It is mainly designed to stimulate the hunting skills of your feline with moving objects.
The device has 6 holes, through which colored feathers will pop out at different intervals. The toy has an anti-skid base that prevents the toy from slipping or topping over, while your cat plays with it. It also has an auto-shut off feature to prevent battery wastage.
The feathers are easily replaceable and also available separately. Go ahead and add this product to your cart, to give your cat a great experience in an affordable manner.
CHECK THE CHEAPEST PRICE ON AMAZON!
18. My Pet Cat Tunnel By Co-Z
The perfect toy to place hide and seek with your cats, this tunnel will ensure they never get bored while playing inside the house. This tunnel toy is equipped with a dangling ball at the exit so that your cat can play from either inside or outside the tunnel.
The tunnel is made of ultra-strong, tear resistant polyester material which is also very easy to clean and maintain. It has a steel frame, with protective ends for sturdiness and your cat's safety.
Easy to fold and pack, you can take this tunnel along with you, whenever you are traveling with your cats and assemble it within minutes for your cat's entertainment. Buy this stylish, foldable cat tunnel to see your cat safe and happy.
CHECK THE CHEAPEST PRICE ON AMAZON!
19. The Multi-Colored Feather Toy By Jiaron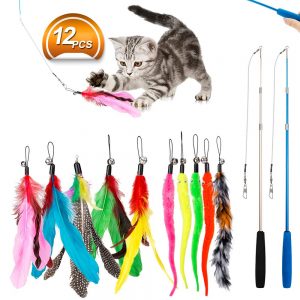 Keep your cats fit and healthy, with this amazing simple to use toy wand with multiple colorful feathers attached to it.
One of the best toys for cats, it helps you bond with your cat and play with it for hours as it jumps, flips and chases the feathers, while you twirl them around with the wand.
All the feathers are made from good quality, non-toxic materials that are safe to use and also environment-friendly. The wand can be adjusted to whatever size you are comfortable holding and can also be retracted to the size of your palm for easy storage.
The entire set contains two wands and ten teaser refills that can easily be fitted on the wands, whenever required.
Go ahead and buy the affordable wand that is trusted by hundreds of pet parents. They ensure that this product will surely keep your cats occupied and entertained for hours.
CHECK THE CHEAPEST PRICE ON AMAZON!
20. The 360-degree Self-Rotating Ball By Yofun
One of the most innovative and best electronic cat toys ever designed, this self- rotating ball is an ideal toy to help your cat stay busy while having fun. The ball also has a built-in LED light to attract and draw the attention of your cat towards it.
The ball rotates 360-degrees and even changes direction on its own if it collides with something like walls or furniture. It has a self-balancing system. An auto shut-off feature shuts down the ball after 40 minutes of play.
The ball does not require any batteries and comes with a USB charging point for added convenience. Most of the pet parents who have bought this on Amazon are very happy with their purchase and thinks it is worth the price paid.
CHECK THE CHEAPEST PRICE ON AMAZON!
Best Cat Toys – Your pick?
These are some of the best cat toys that you can consider buying for your cat to ensure it gets adequate exercise and also has a playful environment around it.
Playing with toys is not only good to sharpen a cat's hunting skills but also for its overall physical and mental development. Cat toys help you and your cat bond with each other, while you'll enjoy each other's company.
Playing with the cat toys relieves your cat from stress and keeps them engaged when you are away to your workplace. Just make sure, you select only the best and the safest toys for your feline friend to ensure its safety.