---
1. 9Lives
---
---
CHECK THE PRICE NOW
---
2. Iams
---
---
CHECK THE PRICE NOW
---
3. Blue Buffalo
---
---
CHECK THE PRICE NOW
Taking up feline guardianship comes with the big responsibility of choosing food as per their nutrition needs, palate and that is appetizing and yet within budget.
Cat food is not something you can skip out from your list of shopping when you have a loving kitty member in the family. However, cat food indeed happens to be one of the primary expenses for a feline pet next to the veterinary expenses and is a must for a healthy and fit cat.
For many, it is a hard choice between expensive, high-quality cat food and the restraining budget line that one needs to consider.
The reason why choosing the best cheap cat food is essential for your kitty is that it must have the right proportion of nutrients like vitamins and minerals that keeps your cat healthy, helps to gain weight, have healthy fur and so on.
SHOW ME THE TOP 20 CHEAP CAT FOODS NOW
Undoubtedly, choosing nutritious food for your fur babies mean minimizing the scope of veterinary medical expenses in the long run. Thus, to choose the best you essentially need to understand the dietary requirements of your cat and the nutrients needed in your kitty's food.
Nutritional Requirements Of Your Cats
The cat food you choose for your feline friend is the primary source of nutrition, energy and good health for your cat. But before we delve into buying tips, essential ingredients, cheap or expensive food, budget choices for your cat's food, it is important or you to know the nutritional needs of your cat. Your cat food must contain:
Source of protein
Essential amino acids like taurine
Essential amount of water
Right proportions of minerals, fatty acids, vitamins and enzymes
Essentially the percentages of required protein, carbohydrate, vitamins, and fat, etc., vary for different animals. Before going to shop the best cheap cat food for your adorable kitty, take a look at the proportion of nutrients the cat food must have.
Protein content must be between 52-63% and minimum 30%.
Fat is also required in the food between 22-36%.
Cats need low -carbohydrate food containing maximum 2.8-12% of carbohydrate.
About 15 to 20% healthy extracts of animal-based fat.
Digestive fiber for better digestion of the food.
Common Fillers In Cat Food
The primary requirement in the feline diet is protein, accompanied with essential minerals, vitamins and enzymes. Carbohydrates tend to be the last thing on the list.
However, the low-grade junk quality cat foods filling up the market these days tend to fill their food with carbohydrates like corn, rice or wheat instead of sufficient meat, fish or poultry protein.
Fillers are found both in canned and dry cat foods and to essentially avoid them as much as possible, dig through the importance of different nutrients and their essential proportion required for determining the best affordable cat food.
Factors To Look For When Buying The Best Cheap Cat Food
1. Canned Food (Semi-Moist Or Wet) Or Kibble
Veterinary nutritionists vary in opinions of recommending type of food that is wet, semi-moist or dry for cats. However, many also share the common opinion that just like humans, the furry creatures can also get bored and tired of eating the same kind of food, which is why alternating the types balances their appetite as well as saves them from getting unstimulated by the food.
Dry food or Kibble: Kibble or dry cat food is completely dry without any moisture content and that is why they are quite convenient when it comes to storing and serving. However, according to experts though these foods are meant to be served dry, these can also be served pre-moistened which makes it easier for the cats to consume. Especially, aged felines with sensitive and weak teeth or gums can find moistened food easier to eat. These are available in both flakes as well as puzzle-based fun game shapes, which make eating exciting for your furry ones. Dry foods are available both as a complete nutrient diet as well as cat treats, which are meant to be given as rewards but must be healthy.
Semi-moist Food: When it comes to feeding semi-moist foods to your cats, you need to think beyond those crunchy pellets, and you will find the food to be somewhat chewy, softer and mid-way between complete dry food and wet cat food. This is a good option between dry cat food and wet cat food.
Wet Cat Food: These foods are available in gravy-like form in cans or pouches. They are preferred by veterinary experts as felines refrain from drinking water, and so the wet foods containing moisture help to meet their water intake requirement in their daily diet.
The best affordable wet cat food is prepared under extensive pressure and on extremely high temperature maintaining high content of moisture. And cats too find these foods appetizing since these are easy to eat and digest as well. Also, wet food helps in strengthening muscles and bones of cats.
2. Health and Nutrition
While selecting food for your cat, it is not essentially important to focus on the cost of the food. Well, it's true that cheap things often turn out to be crap; but with some effort, you can find the best inexpensive cat food that fits into your budget.
However, while selecting food for your adorable furry friend, the most essential part is to combine health and nutrition.
The nutrient content of the food you choose for your cat will determine her health. This way it makes sense to accept a few by-products in the best cheap cat food instead of other health threats like low-moisture content and extensive carbohydrate in the food ingredients.
3. Moisture-Rich Feline Food
A dry diet could be your cat's favorite, and at the same time cheap or as expensive as ten dollars a day; and not enough to provide your cat with the essential moisture she requires.
Hence this can result in lower urinary tract disease that can get serious over some time. In order to avoid chances of urinary tract disease, it is wise to adhere to wet cheap cat food, even though wet cat food is comparatively expensive than kibble.
4. Refrain High Carbohydrate Foods
It is quite natural for you to fall in love with those excessively fatty, chubby and cuddly cats but stop and think if they are chubby or they are heading towards obesity. Yes, it is undoubtedly obesity and that is potentially dangerous and life-threatening for felines.
To avoid this, you should look for low-carbohydrate best quality affordable dry cat food. However, compared to dry cat food, wet cat food contains lower carbohydrate content. Before buying one, you should always check the ingredients mentioned on the packets.
5. Check For Possible-Harmful Additives
The market is flooded with cat foods, and you generally might tend to find affordable feline food. However, you must keep in mind that cheap food and junk food might contain animal by products that you can still do with, but these cat foods tend to contain dangerous preservatives, artificial colors, and carrageenan that needs to be avoided for good feline health.
6. AAFCO Approved
AAFCO is responsible for determining and defining food terms and quality criteria of animal foods. When a food is labeled "Chicken Cat Food" that means it must have a definite proportion of ingredients in it to get labeled as chicken cat food or chicken dinner food, etc. this quantitative measure to qualify for a label is determined by AAFCO.
Therefore, when you are looking to find the best cheap dry cat food, it is important that you look for a "complete and balanced" food and that is certified by AAFCO.
When you find a label like "Complete and Balanced," then you are sure that it contains protein like turkey, chicken, beef, or lamb instead of just mention of meat. High quality foods have the protein source mentioned in the beginning before any other ingredient.
7. Size Of Packet
If you are just beginning to try a certain flavor of dry cat food or wet cat food for the first time for your furry buddy, you should, at first, try out a smaller packet of that food item instead of a bigger one.
Also, if you have just brought a new feline pet in your house and are not certain about her taste, appetizing habits, and preferences of your cat about food, even then buy small first.
If you are confused about the quantity, anywhere between 500 gm to 1 kg packet would be an ideal option. Moreover, the advantage of buying small packets initially allows you to try various flavors, brand and choose the best cheap cat food for your pet. Once you get familiar with your cat's taste in food items, you can consider buying a bigger packet.
8. Expiry Date
This is perhaps the most common factor while shopping for any pet food; but in many cases, you tend to get relaxed while buying pet food, overlooking vital points like expiry date.
Sometimes departmental shops or pet food stores with extensive stocks of pet foods overlook to check the expiry of food items.
However, as a buyer and for your cat's safety, it is your responsibility to check the expiry date as well as the manufacturing date, so that your cat does not fall sick after having expired food.
Expired foods can lead to severe stomach pain, dehydration, stomach infections and many other issues leading to deterioration of your kitty's health and additional medical expenses.
Where To Buy?
When thinking of buying best cheap cat food, you can do that either from local stores or online. Now whether you buy online or from stores directly you have two options of buying, that is either you buy in bulk at wholesale rate, or you can purchase at retail price if you are looking for limited or small quantities.
To save the maximum, you can buy online where you can get nice discounts and offers from time to time. Even if you are buying from stores, retail buying does not pose a problem since you buy in small portions.
But most importantly, when you are looking for budget-friendly meal options without compromising on the nutrient value, you need to know the best healthy and affordable meals in the market.
Things You Must Know About Wet Cat Food
Cats love having canned wet food that is easy to consume as well as easy to digest. Besides, according to vet experts, wet cat food is nutritionally complete, though you need to check the ingredients as well.
As the name suggests, wet foods come with definite amount of water content, which is highly beneficial in hydrating cats. These kinds of foods are specifically not meant for all-day consumption; rather they are served as a meal.
So for those who do not like cat litter and a mess all around the day, serving a meal is better than putting a bowl of dry food all day. Again, many cats who are given dry food tend to consume more than they need, since they don't exactly understand how much they need, and the food is also available all day.
Instead wet food cans come as servings, and you can keep a track of your cats' daily meals and eating habits, you can gauge how hungry your cat is.
Again, wet cat food compared to dry cat food has lower carbohydrate content which is good for cat health.
However, there are many disadvantages of wet cat foods as well as they have limited shelf life of a week or so and since these are gravy like can be somewhat messy.
Things You Must Know About Dry Cat Food
If you go shopping occasionally and are one of those who likes to stock groceries and food items for use over a month or so, dry cat food will suit your purpose as they have a longer shelf life.
Moreover, you will lessen the risk of getting splatters of wet food all around as dry foods are easy to serve and clean up as well.
Besides one reason why many cat owners prefer serving dry cat food is that these dry pellets help in removing the excess formations of tartar on your cat's teeth while they chew the food.
It is important to know that dry cat foods also have a long list of disadvantages like:
Known to have high carbohydrate content.
With a bowl full of dry pellets all day you can't tell how hungry your cat is.
There are chances of cats overeating with food available all day.
Cats eating dry food have tendency of growing cystitis and other urinary tract problems.
Which Is Better – Dry Or Wet Cat Food?
Now as you can find both dry food and wet food have their own set of advantages and disadvantages, you should check which suits the most to feed your cat.
Moreover, according to a survey it was revealed that high-carb diets for cats, which are one of the primary disadvantages of dry food, are not linked with development of Feline type 2 diabetes.
Again, the feline hypothyroidism has been found to trigger from canned cat food. Now with such contrary studies and revelations veterinary doctors recommend keeping your cat on both dry and wet food.
Putting your feline sweetie on both kinds of diets makes sure there is no dependency on a certain type of food. Besides, you can make sure that you strike a good balance between carb and water intake.
As well as, you can also make sure that you are avoiding overeating of your cat by offering measured servings of each type of food.
Now that you know quite a bit about cat food, take a look at 20 best cheap cat foods available in the market.
Top 20 Best Cheap Cat Foods 2020
1. Lean & Tasty Dry Cat Food by 9Lives
If you are looking for a healthy, nutritious yet balanced diet, 9Lives Dry Food is just what you need for a complete nutritional balance for your cat's diet. With chicken and salmon, the product is available in 5 different flavors. This cat food aims to promote metabolism and maintain healthy weight in adult felines.
It will help in building lean muscles, strengthening muscles and making cats active. Apart from Lean & Tasty, other popular flavors available for this product include Daily Essentials, Protein Plus, Indoor Complete, and Plus Care.
9Lives Cat Food with Daily Essentials offers balanced content of high protein and antioxidants. Vitamin E and Selenium helps in strong immune system.
Taurine helps to maintain healthy heart and vision. The product is essentially one of the best picks in the market with 4.6 Amazon rating and over 2000 reviews.
CHECK THE CHEAPEST PRICE ON AMAZON!
2. Proactive Health Adult Cat Food For Hairball & Weight Care
One of the major challenges for feline owners is to manage the weight and hairball problem in cats. This cat food by Iams is one of the best recipes available in the market with 80% out of over 1300 buyers giving it a 5-star rating.
This food item is available in delicious Chicken & Turkey flavor and is ideal specifically for indoor cats to maintain healthy weight. The recipe is formulated with proprietary fiber blended with extracts of beet pulp which essentially helps to reduce the growth of hairballs.
Besides, as fiber also encourages better digestion and metabolism rate. l-carnitine as an essential ingredient in this food item helps to maintain weight gain and helps shedding extra pounds slowly and healthily.
Moreover, this product is for all sizes of cats and for all ages of cats and designed for healthy weight loss program. Besides this cat kibble is integrated with key nutrients like Omega 6 for your furry little one's glossy and healthy skin.
Thus, for range of proactive nutrients, balanced protein and fiber for healthy weight loss regime and hairball care, choose Iams Proactive Health Adult Indoor Formula for you adult indoor cat.
CHECK THE CHEAPEST PRICE ON AMAZON!
3. Wilderness High Protein Dry Cat Food Natural & Grain Free
If you are looking for the perfect dietary formula for your feline buddies, you need something that is rich in protein, healthy carbohydrates, antioxidants and other vital ingredients.
Blue Wilderness is an active protein meal for active felines is great with deboned chicken forming 40% protein content, 20% fat and 3.5% crude fiber content for healthy digestion.
The recipe does not contain grains, and comes with sweet potatoes that offer healthy complex carbohydrates, essential amino acids like ARA, DHA and Choline for eye and brain development.
This recipe has natural ingredients, no corn, wheat or soy fillers. Also, there are no added preservatives or any chicken by products. There are extracts of cranberries, carrots and blueberries that are rich in antioxidants and will make your cat's coat healthy. This is a good choice among the best cheap cat food.
CHECK THE CHEAPEST PRICE ON AMAZON!
4. Blue Buffalo Healthy Aging Natural Mature Dry Cat Food
This Blue Buffalo protein rich cat food with brown rice and aging chicken is undoubtedly a healthy and delicious recipe with high nutrient value at par with the established criterion offered by AAFCO Cat Food Nutrient Profiles.
The recipe includes deboned chicken and offers a rich source of protein for healthy growth and strengthening of cat's muscles, along with barley, pea protein, oatmeal and whole grains to strike the perfect balance of protein and complex carbohydrates.
The recipe is especially designed for adult cats that need definite proportion of nutrients to complete their regular dietary requirements, boos immune system and for healthy eyes, heart and digestive system.
The product has bagged an excellent star rating by Amazon buyers and is known to be one of the best inexpensive cat foods available.
CHECK THE CHEAPEST PRICE ON AMAZON!
5. Indoor Hairball & Weight Management Dry Cat Food
Indoor Hairball and Weight Control Natural Adult Kibble from Blue Buffalo is a perfect combo meal benefiting healthy weight management regime, enhancing immune system and healthy digestion in cats.
When you have a senior feline member in the house, few things which are important for the dietary care includes high fiber for easy digestion, rich source of protein for health management and energy and proficient amount of minerals, vitamins and antioxidants for a healthy immune system for an aging cat.
Blue Buffalo Indoor Hairball and Weight is a balanced recipe with high sources of Vitamin B2, B7, B6, Vitamin D3 supplements, Omega 6 fatty acid, folic acid and whole of essential nutrients which helps your senior frisky to lead a healthy life.
Available in 3lb pack, this scrumptious chicken delight recipe is not just a mouth watering cat food but a holistic meal as well.
CHECK THE CHEAPEST PRICE ON AMAZON!
6. Raw Cat Food Premix By Know Better Pet Food
Better in the Raw for Cats is perhaps one of the ideal products which helps you eliminates the use of added flavors, preservatives, artificial elements totally from your cat's diet.
Prepared with 100% human grade ingredients, this food recipe offers raw meat diet which is known to contain rich sources of protein and nutrients for cats of all ages.
The product has no added grains or fillers. This easy to make premix is perfect for making raw meat for your cat. Add good quality meat for the well-being of your feline friend and use it for two servings with this premix.
The product comes in powder form that when mixed with water forms a semi gelatinous mixture which needs to be enhanced with addition of raw meat of your choice like chicken, turkey, lamb, etc.
The mixture being semi gelatinous is easy for cats to eat and digest as well. Nothing can be better than homemade food, even for your little furry fella. Treat your cat with her favorite meat diet with Better in the Raw, the perfect protein diet for every cat.
CHECK THE CHEAPEST PRICE ON AMAZON!
7. Purina Cat Food Deli-Cat – 10 lb. Pail
Purina Deli Cat food is the one stop solution for all those feline owners who love to stock cat food. Your Feline friend will gorge upon their meals when they're hungry.
The zesty flavor of Deli Cat with a mouth watering combination of fish, liver and turkey, even your kitty who often get bored with same regular meals would snatch upon the pellet bowl and finish up the food at a glance.
The product is available in a 10-pound package, so you don't need to buy cat food for days. The product comes in a sturdy, air-tight plastic container, which is easy to use.
CHECK THE CHEAPEST PRICE ON AMAZON!
8. Purina 25 Lb Cat Chow Complete
This is a complete nutritious diet for your cat as it is healthy and a highly nutritious cat food for cats of all ages and size. Enriched with 25 essential vitamins and minerals for healthy development and healthy heart of cats, this product is a complete and balanced nutritious meal for cats.
Available in 25lb pack with 4250-point bags inside, this is one of the comprehensive hassle-free meal for your feline companion.
The recipe is formulated as per feline appetite and contains healthy carbs, high quality proteins and essential fatty acids apart from the micronutrients that works as a booster for healthy and lean muscle building, shining skin and active energy in cats.
If you are looking a feline meal rated above 4.5 stars within a budget, this is the deal you were looking for.
CHECK THE CHEAPEST PRICE ON AMAZON!
9. Friskies All-Natural Chicken Dry Cat Food
Friskies Farm brings for your kitty an absolute treat. This chicken flavored kibble along with the essential flavors of Carrots & Spinach is hard for any kitty to resist. The delightful taste of the kibble is credited to the farm-raised chicken used to prepare the protein-rich yummy cat food.
Every serving of All-Natural Chicken Dry Cat Food offers high amount of protein, antioxidants and fatty acids that boosts the overall immune system of your cat and stimulates strong muscle growth and fine and healthy skin.
Friskies Farm Favorites recipe is completely free from any kind of added preservatives and flavor. Every pellet is a treat with delightful flavor of chicken blended with spinach and carrot.
It is not only just a 100% complete balanced diet for your feline buddy but these crunchy flaky pellets are also fun to munch and crunch which also cleans the tartar from your kittens' mouth. Grab a 15lb package and offer the most delicious healthy meal servings in the market to you cat.
CHECK THE CHEAPEST PRICE ON AMAZON!
10. Meow Mix Cat Food
Meow Mix Grain Free Kibble is prepared with the goodness of real US chicken offering proteins and is for cats of all ages.
The Grain Free Kibble from Meow Mix focusses on offering optimal levels of vitamins, minerals and rich protein without artificial preservatives or flavors especially suitable for sensitive bellies.
To ensure that your cat gets a healthy meal, this cat food has been formulated as per the nutritional levels established by AAFCO Cat Food Nutrient Profiles. Meow Mix keeps up with the quality and helps you serve your kitty a bowl full of healthy nutrients with love.
Meow Mix is one of the best proteins packed healthy kibbles in the market which can easily fit in limited budgets and as a filler free protein and nutrient rich diet, this is the ideal food item for your adorable friend.
CHECK THE CHEAPEST PRICE ON AMAZON!
11. WholeHearted Grain Free Chicken Formula Dry Kitten Food
Wholehearted Grain Free Chicken recipe is full of protein power in every serving and your feline buddy will surely love it. While the food is primarily popular for its chicken flavor, you can also avail the goodness of fruits and vegetables.
Key ingredients contain chicken, chicken meal, peas, chickpeas, chicken fat, flaxseed, and even probiotics for the health of your feline's digestive system. Without any unwanted fillers like corn, wheat or grains, you can surely buy a 5lb budget pack of Grain Free Chicken Formula and serve a healthy meal to your favorite pet.
CHECK THE CHEAPEST PRICE ON AMAZON!
12. Nutri Source Cat & Kitten By Philips Feed
When it is about food of your feline best friend, you want to give her the best and therefore you need to choose the wholesome goodness of protein in Nutri Source Cat & Kitten.
The zesty medley of chicken, salmon and liver can make any kitten a fan of this Nutri Source food. The product focuses of absolute protein power, and no matter what age, breed, or size, your cat is, it is a complete balanced meal.
Available in 16lb pack, each bag is enough for your cat for 2 to 3 weeks. With a recipe full of protein, Omega 3 and Zinc, active minerals and Vitamins, your cat will become more energetic and active.
CHECK THE CHEAPEST PRICE ON AMAZON!
13. Applaws Chicken Grain Free Dry Cat Food
When you are seeking cat food with limited ingredients, eliminating junk fillers, enriched with real wholesome ingredients as if from your own kitchen, you must try Applaws Chicken Grain Free Kibble. This cat food will offer healthy source of solid nutritious meal for feline friend within budget.
It is made of handpicked ingredients like a hearty medley of vegetables and legumes for active energy, grain free recipe fortified with high protein content with deboned chicken as the primary ingredient.
This ready to use recipe does not require any mixing with water, can be served directly and is available in 4lb packs.
CHECK THE CHEAPEST PRICE ON AMAZON!
14. Applaws Whitefish Grain Free Dry Cat Food
With cats being a natural lover of fish and the abundance of whitefish in USA, Applaws offers Whitefish Grain Free Kibble for all cats breeds, size and age. For domestic cats, you know that a protein-rich meal is the best without too much of carbs, and Applaws cares for your like kitty.
Besides being tasty, this food item is prepared with countryside vegetables, legumes and appetizing whitefish. Moreover, it is affordable, nutritious and contains low carbohydrates. With natural ingredients, this recipe has been one of the favorites among cat owners.
CHECK THE CHEAPEST PRICE ON AMAZON!
15. Grain-Free Salmon, Egg & Sweet Potato Dry Cat Food
Purina understands the taste buds and requirements of domestic felines and leads in preparing some of the cat meals with loads of protein, essential Omega 3 fatty acid and vitamins that act as energy and muscle strengthening booster in cats.
Purina Beyond Indoor is especially designed as a grain free kibble for domestic cats with their favorite fish salmon, the perfect blend of protein with Omega 3 fatty acid for a shining furry coat with added source of protein like egg. This is a perfect buy as it offers complete nutrition for your indoor fur friend.
CHECK THE CHEAPEST PRICE ON AMAZON!
16. Fussie Cat Market Fresh Salmon Recipe Dry Cat Food
When collecting the groceries for your adorable kitty, you can consider buying a pack of 2lb Cat Market Fresh Salmon Recipe from Fussie.
This meal can trigger the hunger bolt in your feline buddy, especially if she is always fussy about meals. Cats are in absolute love with fish, and when it is a serving with real fresh salmons, you can bet that no carnivore can resist it.
This nutrition rich food contains no fillers or grains and the formula is fully AAFCO approved protein oriented and comes with essential vitamins and antioxidants that ensures an active, healthy immune system and easy digestion. If your cat is a salmon fanatic, you got to buy the Cat Market Fish from Fussie right now.
CHECK THE CHEAPEST PRICE ON AMAZON!
17. WholeHearted Grain Free Turkey Formula Dry Cat Food
Wholehearted Turkey Kibble is a grain-free formula prepared to deliver high-protein, probiotic, filler-free rich nutritious meal for domestic feline of any breed and size.
Turkey is the prime source of protein in the recipe, which is vitaminized with Omega 3 fatty acid, essential antioxidants, zinc, selenium, Vitamin E for healthy growth and immune system of indoor cats.
This cat food is completely soy, corn and wheat free; and would surely keep your dear feline happy, healthy and energetic. . You must bring home this highly nutrition diet for your kitten.
CHECK THE CHEAPEST PRICE ON AMAZON!
18. WholeHearted Grain Free Senior Chicken Recipe Dry Cat Food
Senior domestic felines need added attention, more care for their sensitive gums, poor immune systems, low rate metabolism, and Wholehearted Senior Chicken Recipe is equipped with essential fibers, amino acids, high end immunity building vitamins, active antioxidants formula with perfect combo of Vitamin E, Selenium and Zinc, to help and support their degenerating bones and energy.
The recipe offers sufficient supplement of protein, eliminating extra carbs, and is a complete balanced diet for your senior cat. It is available in 2lb, 5lb and 12lb packs.
CHECK THE CHEAPEST PRICE ON AMAZON!
19. WholeHearted Grain Free Limited Ingredient Chicken Dry Cat Food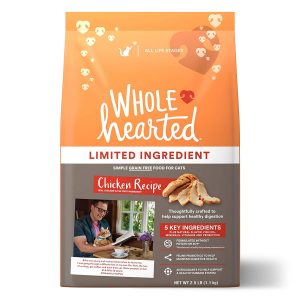 The Limited Ingredient Chicken recipe dry cat food focuses on one main ingredient, which is real chicken. This cat food is made from real chicken and is known to be a dry food with only 5 ingredients.
That's why the manufacturer has named it a limited ingredient dry cat food. The food contains no soy or potato and is grain free too. All it contains is chicken, fish oil, minerals, vitamins, and probiotics which are helpful for healthy and easy digestion in cats.
With a full 5-star rating, which signifies how satisfied the customers are with the product, it's one of the fully chicken based cat foods to choose from.
If you are looking for something simple and yet full of quality nutrients, you can choose this. Most importantly, the wholehearted Grain free recipe is for cats of all ages.
CHECK THE CHEAPEST PRICE ON AMAZON!
20. 2 Bags of Friskies Surfin' & Turfin' Favorites Dry Cat Food
The Friskies Dry Cat Food is a feast of sea and land-based ingredients i.e. chicken, ocean fish, salmon and crab. It also contains a balanced amount of essential ingredients such as vitamins, minerals and nutrients that are required for the health of the friskers.
The Surfin' & Turfin' Favorites offers omega 3 fatty acids which are good immune boosters for cats. A good amount of Taurine and Vitamin A in the dry cat food helps improve heart health and vision in cats.
The dry car food comes in pack of 2. This ensures sufficient healthy and quality food for your cat in just a one-time buy.
CHECK THE CHEAPEST PRICE ON AMAZON!
Best Cheap Cat Foods – Your pick?
With this handy and useful list of the best cheap cat food available in the market, you won't need to buy low quality junk kibbles available at low prices.
Instead, you can offer your little furry friend a healthy nutritious but cheap cat food. It is a priceless bargain to watch your cat play actively, energetic feeding on healthy recipes instead munching on unhealthy carbs and junk fillers.
A wise consumer understands a deal before buying, and a loving cat owner delves into the nutritional value of the food he buys for his feline friend.
So do not compromise on love and care when it comes to buying meals for your domestic frisk, get affordable and healthy nutritious meals always after checking the ingredients and everything else.