---
1. SmartCat
---
---
CHECK THE PRICE NOW
---
2. Go Pet Club
---
---
CHECK THE PRICE NOW
---
3. PetFusion
---
---
CHECK THE PRICE NOW
While it is a joy to have a lovable pet like a cat at home and spend memorable moments with her, there are sometimes a few negatives that come with it.
One of the significant reasons for strife between a pet cat and her owner is the issue of scratching as cats love to scratch furniture, carpets, or any other household objects. They prefer to scratch on vertical surfaces, horizontal surfaces, as well as angled surfaces.
A cat scratching post is a perfect solution to this common problem faced by cat owners. Before you go ahead and look for accessories like the best cat scratching post, you need to understand as to why cats scratch in the first place.
SHOW ME THE TOP 20 CAT SCRATCHING POSTS NOW
Why Do Cats Scratch?
If you have a cat, you must have noticed that she has claws on her front and rear paws. Cats usually use their rear claws for itching and climbing and the front claws for preying. They carry an instinct to scratch objects, and there are scientific reasons behind that.
Cats' paws carry scent glands, and when they scratch an object, they leave behind a deposit of their scent. This is their way of marking territory and leaving territory information for other cats. Moreover, scratch marks also serve as visual information of territory marking.
Nevertheless, all that scratching is seen as a healthy grooming behavior as it helps cats to get rid of the outer layer of their nails and keep them clean and shiny.
As the cat tries to scratch, it stretches its feet and body that works as a good exercise and releases good hormones that keep them healthy and happy. Perhaps the scratching activity helps them to relax, express excitement, and remove stress.
But why do cats feel all that stress? Well, there could be many reasons; and one major reason is that they could be insecure and stressed. Thus, they prefer to scratch different household objects to release stress and feel secure.
The reason for their stress could be a recent change in the lifestyle of people at home or the presence of another pet or cat in the house, loss of a family member, moving or home renovation. Excessive noise during house parties too can be a source of stress for the cat.
Scratching also helps cats to exercise their muscles and stretch. In the wild, you must have seen cats scratching trees to satisfy their needs. As trees are strong and solid and carry varying textures, they are indeed perfect as a scratching surface.
Moreover, the fallen branches, limbs, and trunks around the tree provide the wild cats with varying degrees of angles to scratch on. Outdoor cats often use wooden fence posts or tree stumps to sharpen their front claws.
Now that you understand the variety of reasons why cats scratch, you can go ahead and start looking for a suitable cat scratching post for your cat. You should not look at cat scratching as a negative activity but look at it with acceptance.
All you need to do is give them a suitable alternative like the best cat scratching post and cohabitate peacefully with your feline friend.
What Is A Cat Scratching Post?
A scratching post is made of wood and covered with strong rough material. Indoor cats can be given the best cat scratcher that they find acceptable and useful to exercising their urge to scratch. Typically, the scratching post is about 60–90 cm tall and carries a wide base.
The cat can stretch and scratch freely without the risk of any tipping over of the post. The surfaces of the post can vary based on what they are covered with, for example, upholstery fabric, jute, or sisal rope.
According to the experts, corrugated cardboard and sisal fabric are considered the best for cats. Some of the scratching posts can carry elaborate designs and shapes.
For example, they can carry several horizontal platforms for climbing and may even carry a cave-like area for the cat to hide and rest. Some posts can be very tall and are often referred to as a cat tree. The cat trees carry more features and provide extra stability.
Factors To Look For When Buying The Best Cat Scratching Post
You can buy scratching posts at local pet supplies stores or browse online for the best cat scratching post. Do not buy a scratching post that is unstable or poor in quality.
Often, pet owners experiment with different cat scratching posts and various surfaces to find the best post for their pets. When looking for the best scratching post for cats, there are various factors to keep in mind; let's take a look.
1. Vertical Or Horizontal Design
Horizontal or vertical design, every cat has a preference. So, not just the scratching surfaces even the position or orientation of the scratching post matters. However, unless you have used posts with both horizontal and vertical orientation, you won't be able to judge which one is your cat's favorite.
However, it is a factor worth knowing as buying a post with an orientation your cat does not like makes no sense. There are many designs in both types of orientation like curved lounger design, tree design, wall mount cat scratchers, posts with various platforms, etc.
2. Various Cat Scratcher Posts
After orientation, you must first know about different designs and types available when it comes to buying the best cat scratchers. Here are various types of cat scratcher posts available in the market.
The basic post: The simple and basic post works as a great satisfying scratching surface for the cat. The shape of this post looks attractive and can blend in with any home décor. It is usually covered with a thick sisal fabric and features a sturdy base.
Post with a bed: Often, there are posts with a perch or bed on top, and this is what cats love to climb, and it offers a kind of relief to them. While the cat can scratch on the body of the post, she can climb to the top to stretch and rest. You can also find posts with multiple platforms.
A tree-like post: Another popular design is the cat tree design, where you will find several vertical posts placed securely on the horizontal base. The varying heights and different angles provide gripping surfaces for the cats to scratch.
Cat condo: Pet owners who have many cats prefer to buy a cat condo as several cats can use these posts for scratching, climbing, and relaxing. Well, this is the ultimate you can get if you love your cats and have a number of them.
Angled scratching posts: This is another preferred design when it comes to the best cat scratching post. Cats find these posts interesting as they get a third-angled position for scratching that is different from the usual. Generally, these are made from corrugated cardboard. These scratchers also assist in stretching and working muscles. These scratchers help cats scratch backward and forward both that amuses the cats in addition to health benefits.
3. Size
You will find cat scratching posts in all sizes i.e. small, medium and large. The size you must buy will depend on the space you have and the size of your cat. The number of cats will also be a factor as if you have two or more cats, you must buy a bigger size with some scratching and playing options.
4. Height
According to the experts, cats always prefer a taller scratching post as they want to feel comfortable while they are scratching and want ample space to stretch out their entire body. A taller post looks like a tree to them and is preferred. Look for a suitable height, and the scratching post you are looking at should be at least a 32-inch in height or taller.
The idea is to give your cat a full stretch while scratching and ample space to satisfying her scratching and stretching needs. The post should be more than the height of the cat so that it is tall enough for her to stretch. So, the taller and sturdier the post, the more is the cat going to like it.
5. Base
An ideal cat scratcher should carry a wider base for higher stability. The sturdiness and stability are an essential aspect as cats use lots of energy when sharpening their claws and scratching. No cat would like to climb or scratch on a flimsy scratcher post that topples easily.
It can even scare her away or, worse, cause an injury. A post with a study base can work for more stability, and it should be large enough for the cat to stand on and scratch at the same time.
6. Sturdiness
Cats can scratch for hours, and it means buying a weak and wobbly post will not work for them. So, give them a stronger and sturdier post that can provide a good muscle workout as well as work as a surface to exercise all their frustration on.
Especially, when shopping for cat trees, observe if the design would be sturdy enough as some designs are not as good in functionality as they are in design. Never ignore the sturdiness and stability to avoid tip over when the cat is in full mood.
7. Material Used
Always buy a cat scratcher that is made of strong and durable material. After all, it should last a good number of years as the cat gets well familiar and fonder of it. Corrugated cardboard covered posts appeal to many cats and are inexpensive to replace.
A rough sisal rope cover is another popular option and is much more durable when compared to cardboard ones. Experts recommend sisal fabric as the cats simply love the texture, feel, and resistance of the fabric. Thus, go for the material that seems to be the perfect scratching surface for them.
8. Style Element
No cat owner would want to keep a post in his home that does not match with the decor and style of your home. So when selecting the post, this becomes an important factor.
When you visit the market or search online, you will find scratching posts in several styles, so pick one that matches your home decor and is a perfect fit for your cat as well.
9. Number
Buy several scratching posts as it is a good idea to provide your cat with multiple scratching posts. Even if you have a single cat in your home, you can buy 2 or 3 scratching posts as it raises the chances of your furniture and carpet to be left alone.
As a general rule, the more cats you have the more scratching posts you will need. After all, each of them would prefer to have their own scratching posts and separated resources. Thus, when looking for the best cat scratching post, keep in mind the number too.
10. Consult Your Vet
Vets and veterinary experts are well aware of the primary cat-satisfying behavior and know what cats look for in a scratching post. If you are still not sure after reading the above, you can take your vet's advice for buying the best scratching post for your cat.
Today, there are different looks, designs, and styles available in the cat scratchers in the market. While some of them carry a simple basic design, others carry varying angles and surfaces and come with different features. The scratching post should fulfil the complete needs of the cats for stretching, scratching, and exercising.
For cats, the sturdiness of the scratching post is more important than the material used for the construction. Whatever type of scratching post you go for, whether vertical or horizontal, simple or elaborate, covered with cardboard or sisal, it should satisfy every demanding cat.
When you start looking for cat scratchers, you will come across a huge range of scratcher posts made of different materials in varying designs. Here are some of the most popular and the best cat scratcher posts of 2020.
Top 20 Best Cat Scratchers of 2020
1. Pioneer Pet Scratching Post By SmartCat
Now you can stop your cat or kitten from ruining your carpet and furniture, once you buy the SmartCat Pioneer Scratching Post. Your pet will look forward to having hours of fun, play, and exercise with this post.
What makes this scratcher a preferred choice is that it is not only great to look but also very easy to assemble and set up when compared with similar items.
The durable woven and fibrous sisal makes it superior to other carpeted pillar design posts. Its sturdy 16″ by 16″ base and 32″ height makes it just perfect for any cat to stretch fully, tone her muscles, and get inspired to spend more time around the post.
More than 80% Amazon buyers have recommended this scratching post and even stated that it is worth every penny and the best cat scratcher out there.
CHECK THE CHEAPEST PRICE ON AMAZON!
2. Go Pet Club Brown Cat Tree
It is indeed hard to resist this attractive cat tree from the Go Pet Club for your beloved cat. The 62" cat tree is made from strong and sturdy compressed wood and comes with high-quality Faux Fur finish. What adds more promise to this cat scratcher is its unique features like a top perch, ladder, tunnel, hanging toys, and a basket.
Your feline friend can spend hours on the cat tree without getting bored and keep herself entertained and relaxed; thanks to the multiple scratching posts. What makes the scratcher perfect for your cat is that it is covered with natural sisal ropes, and there is plenty to do, scratch climb, and play around.
While the cat enjoys fun time, this cat tree ensures that your cat is safe. Moreover, its spacious condo encourages your cat to enjoy a peaceful nap. No wonder, it has thousands of positive reviews by buyers.
CHECK THE CHEAPEST PRICE ON AMAZON!
3. PetFusion Beautiful Cat Scratcher Lounge
Your cat is sure to love this wonderful scratcher that has a striking lounge design. Made of recycled cardboard, the scratcher is designed beautifully and works as a great exercise and stress buster for the pet. Careful curvy designing and superior construction makes the product more popular and comfortable for the cats.
Large surface area means plenty of scratching opportunities and more space for a number of cats. This product can be a great buy and is listed among the top products for cats.
It is a 2015 Eco-Excellence Award winner. It makes for a stylish addition to your house too! With over 7000 reviews on Amazon and 90% excellent reviews, make sure you don't end up buying cheap copy of the product.
CHECK THE CHEAPEST PRICE ON AMAZON!
4. Go Pet Club Cat Tree Furniture
The Go Pet Club Cat Tree comes with multiple elevated platforms and features a condo too. This cat tree is made of highly durable compressed wood and comes with a Faux Fur finish that keeps your pet warm and comfortable.
Hanging toys and multiple scratching sisal-covered posts within the tree make it a lot more entertaining and exciting for the cats who would love to spend an endless amount of time here.
Raised edge two safe perches offer excellent support and roomy condo is ideal for cat to take a nap. It features a ladder as well. Careful designing, functionality and complete safety and support for your cats. After analysing the customer reviews, the Cat Tree indeed enjoys great popularity with the customers.
CHECK THE CHEAPEST PRICE ON AMAZON!
5. Catit Style Jungle-Stripe Patterned Lounge Cat Scratcher
The 19.5 inches wide cat scratcher comes with a jungle print and is designed to look like a lounge. The Catit Style Patterned Cat Scratcher comes with a modern twist and with catnip that motivates your cat to spend more time with the scratcher with a corrugated scratching surface.
According to the customer's reviews, there are many cats that prefer horizontal scratchers and the Catit Style Scratcher seems perfect. Looking at the current prices, this product can be a great buy for those looking for the best scratching posts for cats.
CHECK THE CHEAPEST PRICE ON AMAZON!
6. 51 Inches Cat Tree Tower with Condo and PlayHouse By Yaheetech
If you are looking for a sleek and elaborate scratcher for your cats, then go for the Cat Tree Tower Condo from Yaheetech. The attractive multi-level cat tree is made of a good quality particle board that comes with plush covering. The lively and interesting designing is what makes this product special and more interesting for cats.
Those soft lounging spots and spacious hideaway houses indeed look warm and welcoming. The top perches platforms fulfil the climbing needs of cats, and the sisal rope coiled posts encourage positive scratching habits. The reinforced bottom base is both sturdy and stable.
CHECK THE CHEAPEST PRICE ON AMAZON!
7. Trixie Pet Products Parla Scratching Post, Gray
Go for the Parla Scratching Post from TRIXIE that provides endless opportunities for your feline friend to play, scratch, or just relax. The simple and sleek looking scratcher is suitable for cats of all ages and activity levels. The subtle, neutral tones in platinum grey can easily blend with any interiors.
Also, the product is easy to handle and assemble. Made of CARB Phase II compliant wood and wrapped in natural sisal, the product comes with one-year warranty. This product is indeed a great buy when compared with similar items and costs less than $20!
CHECK THE CHEAPEST PRICE ON AMAZON!
8. AmazonBasics Cat Scratching Post with Plush Hammock
This scratching post is a perfect playground for your cat as she can entertain herself for hours on end on the hammock. The scratch-friendly environment with dual scratching post pillars will keep her claws and mind busy for hours. It is no surprise to see this scratcher a hot favorite among cats and their owners.
What keeps their nails healthy is the natural jute fibre scratching posts, and the best part is that the neutral color tones of the cat scratcher can fit in with any existing décor. The naturally fibrous construction of the AmazonBasics scratcher is just the perfect spot for the cats to satisfy the urge to scratch, climb, and release energy.
CHECK THE CHEAPEST PRICE ON AMAZON!
9. PetFusion 3-Sided Vertical Cat Scratching Post
The vertical cat scratching post from PetFusion is available in two sizes, and the cats simply love using the scratcher. Made of recycled cardboard and covered with a natural scratching surface, the thoughtful designing behind the product offers both vertical and horizontal scratching surfaces.
Moreover, the curves create numerous opportunities for stretching & scratching angles, and this is why the Vertical Scratching Post attracts cats naturally. Go ahead and get this wonderfully designed scratcher that has already won the 2014 Editor's Choice Award.
CHECK THE CHEAPEST PRICE ON AMAZON!
10. Kitty City Premium Scratching Post With Woven Sisal Carpet
Go for this top-quality XL wide cat scratching post that comes in neutral tones and looks very attractive. The extra-tall height of the post means that the product has been carefully designed for cats.
With just three screws, the post is very easy to assemble and is covered with Premium Woven Sisal Carpet. Only non-bleached and dried woven sisal is used to make this scratching post.
The cats simply love the ultra-soft synthetic perch of the scratcher and jingle ball toy at the top of the post that simply looks great in any home. The stable width and extra-tall height make the post simply perfect and a great buy. Go ahead and shop for this amazing product that costs less than $40!
CHECK THE CHEAPEST PRICE ON AMAZON!
11. Petstages Foldable X-Shape Cat Scratcher & Hammock
If you are looking for a hammock lounge along with a scratching pad for your feline friend, go for the Hammock Cat Scratching Post by Petstages. The "X" design comes with a 2-in-1 scratching surface and is easy to fold away when not in use. The cat can use the post to curl up or scratch, and what holds their interest is the catnip.
Your pet is completely safe, thanks to the sturdy corrugate supports on the basic hammock. Corrugate material encourages cats to scratch, and the smell of catnip scent lures them to the scratcher.
The hammock is14 inches in width and 21.25 inches in length. It is 3.2 inches thick. Buy this stylish, foldable cat scratcher to see a safe and happy cat.
CHECK THE CHEAPEST PRICE ON AMAZON!
12. Compact Cat Scratcher, Condo & Hammock by Trixie Pet Products
If you have a small space and are looking for a compact and feature-rich cat scratcher that is easy to use and store, then this product by Trixie Pet Products indeed makes for a perfect choice. This cat scratcher allows easy storage as it can be folded, is smaller in size and lightweight too.
The natural sisal scratching surface and a removable cushion insert are some useful features. You can machine wash the cushion insert and thus keep the scratcher neat and clean.
Your cat is sure to find endless opportunities to explore, play, and scratch. Just enjoy watching your cat jump, climb or perch on the hammock and relax. The scratcher is perfect for cats of all ages and with different activity levels.
CHECK THE CHEAPEST PRICE ON AMAZON!
13. Cat Activity Tree With Scratching Posts by AmazonBasics
What makes the AmazonBasics Cat Activity Tree a great buy are the double-platform and three scratching posts. The round platform at the top works as a cat bed and the jute-wrapped posts offer a perfect surface for scratching.
It features stable square-shaped base made of MDF, carpet, paper tubes, and jute. This scratcher measures 15.7 x 15.7 x 31.5 inches and comes with easy to follow instructions, it can be assembled in no time and can work in areas with limited spaces.
Now your feline friend can have an interesting corner and spend endless hours on the AmazonBasics cat tree, as there are optimal surfaces for sharpening claws and for playing. Let your cat hone her climbing and jumping skills and take her nap in that cosy spot at the top of the cat tree.
CHECK THE CHEAPEST PRICE ON AMAZON!
14. 22 inches Tall Cat Scratching Post Cat Interactive Toys by 4 Paws Stuff
This 4 Paws Stuff's interactive 22 inches cat scratching post is a perfect scratcher to keep your cat away from scratching carpets and furniture. The interesting design of this simple-looking post will serve as a fun playground for your cat as well as give her ample surface for scratching.
There are captivating toys to keep your kitten entertained, such as the two tracks with spinning balls. Moreover, it is very easy and simple to assemble the scratching post tree that is covered with eco-friendly sisal rope materials. Go ahead and keep your cats occupied as well as entertained for hours.
CHECK THE CHEAPEST PRICE ON AMAZON!
15. Dimaka 29″ Tall Eco-Friendly Cat Scratching Post
This tall scratching post tree is just perfect for both smaller kittens and older cats. This natural and eco-friendly cat tree is made of thick cardboard and wrapped with natural fibrous sisal.
What adds to the reliability and stability is the heavy chipboard base tower. Its height offers extra space and surface to the cats for stretching and scratching.
Pick from the various colors like brown, dark brown, light grey, blue, and beige. Buy to take advantage of the modern design that is easy to assemble. All you need to do is hold the pole to move the scratcher to a new location.
CHECK THE CHEAPEST PRICE ON AMAZON!
16. AmazonBasics Cat Tree with Platform
The AmazonBasics Cat Tree is meant for small to medium size cats. What make this scratching post popular is its multi-platforms. It is covered with natural jute fibres, and its neutral color tone means you can match it with any home decor. Rough surface is perfect to keep cat nails healthy.
This multi-level cat tree works as a great activity area for your feline friend. Its wide scratch pad makes it suitable for big cats too. As per Amazon reviews, you can buy this even if you have space constraints or multiple cats. Assembling is also easy.
CHECK THE CHEAPEST PRICE ON AMAZON!
17. Catry Hammock Bed with Natural Sisal Scratching Posts
Catry brand is known for its quality, functional and amazing cat scratcher designs. When it comes to buying the best cat scratching posts, you must surely check out Cat Tree Hammock Bed by Catry.
It is indeed very popular among pet owners and their cats and for good reasons. It features a three-level cradle and teasing feather that will keep your pet busy for hours.
The scratcher is indeed great for resting as well as working out for the cats. Since it has two scratching posts, it is ideal if you have more than one cat.
The attractive design and quality finish of this cat tree ensures higher stability and longer life. It is indeed a great place your cat will look forward to when it comes to relaxing.
Its size is perfect fit for cats up to 10 lbs. Most cat owners who have bought this on Amazon are more than happy with their purchase.
CHECK THE CHEAPEST PRICE ON AMAZON!
18. Cat Tree & Tower for Cat Activity by Pet Pals
Made with handmade rope and felt, the Cat Tree Tower is just perfect for your cats to scratch and sharpen for their claws. What keeps the scratcher post interesting for the cats is a hanging free teasing toy and the two different plush perch styles.
Just watch your cats snuggle safely and play on the cat tree. This is a perfect scratcher for multiple cats to play and spend hours scratching.
CHECK THE CHEAPEST PRICE ON AMAZON!
19. Cat Scratching Posts- Adult Cat and Kitten Tree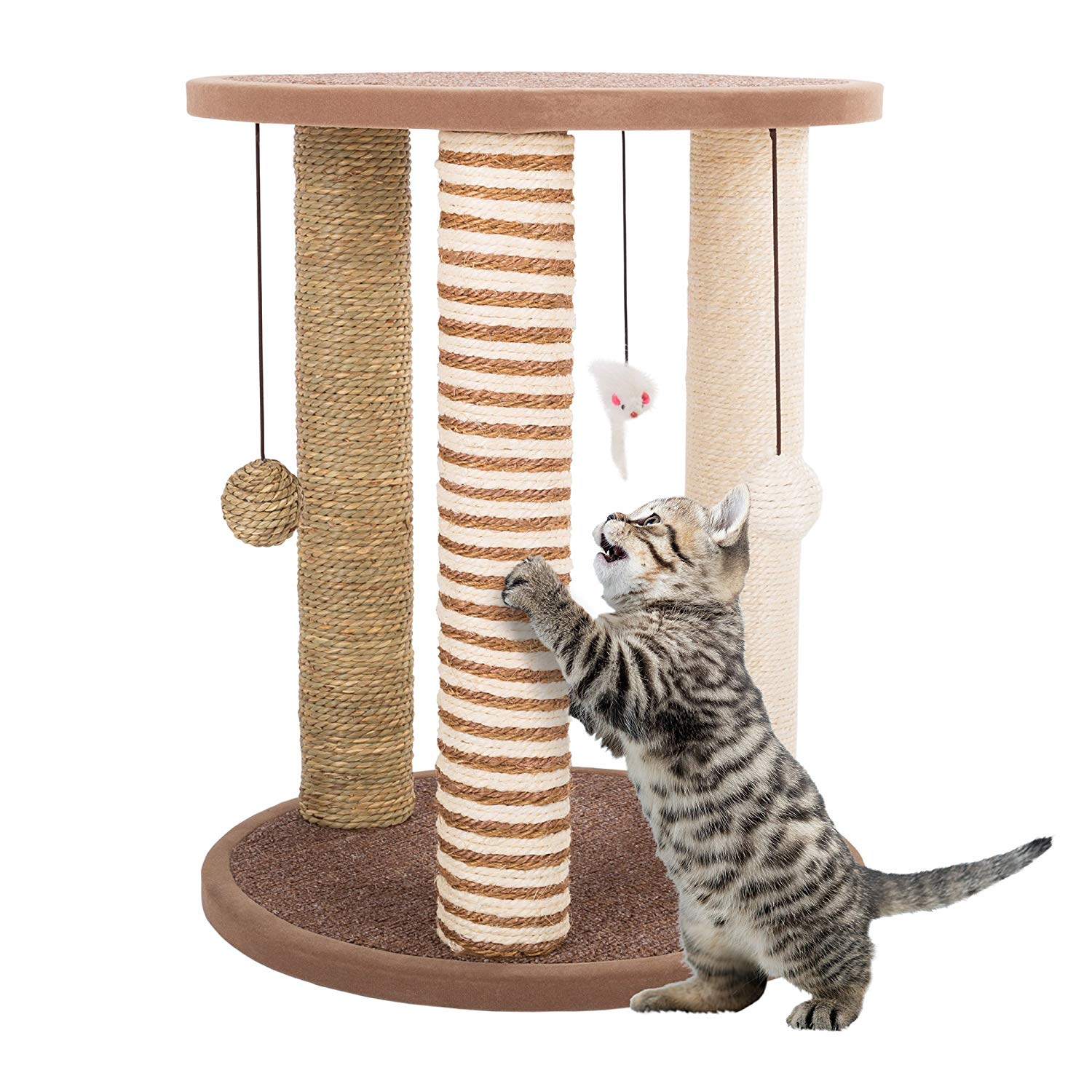 The Adult Cat and Kitten Tree by PETMAKER come with three large scratching poles, a perch, and a carpeted base play area. As per most customer reviews on Amazon, the product is indeed a great buy for those looking for healthy scratching and hours of play for their feline friends.
The modern design of the cat scratcher features fun toys and offers hours of safe place to play for the frisky felines. The sturdy design of this cat scratching post and its lower price attract customers.
CHECK THE CHEAPEST PRICE ON AMAZON!
20. Akarden 20.5" Tall Cat Scratching Post
The Akarden Cat Scratching Post is tall and comes with a hanging ball. This sturdy cat scratching post is very popular among customers because of its lower price, natural high quality sisal, and brown soft faux fur. Extra attention is paid to the needs of the cats.
The heavy chipboard base tower adds to the stability, while the full stretch for big cats is perfect for claw scratch. Stable base means no tipping or wobbling and plush ball on the tower is an added attraction. Moreover, it is very easy to assemble and disassemble and allows full stretch even for big cats.
CHECK THE CHEAPEST PRICE ON AMAZON!
Taking Care Of The Cat Scratcher
When you have bought one of the best cat scratching posts that boast of topmost quality, it is essential to keep it looking good and in great condition. A dirty and shabby looking scratching post would only give a disgusting look that neither you nor your cat would like. Regular cleaning and care can keep the cat scratcher post in excellent condition and looking good for years.
Clean the surface with a brush: Use a stiff cleaning brush to get rid of any dirt and remove cat hair on the post. Clean the surface with heavy strokes across and throw away all the dirt and cat hairs that are brushed away.
Vacuum the scratching post: Take out your vacuum cleaner and vacuum the post on a regular basis. That will ensure the clean look of the scratching post.
Use an odour-neutralizer: As your cat may pee on the scratcher, it is essential to use an odour-neutralizer to neutralize those odours. Shop for a good quality odour-neutralizer from your pet store.
Disinfecting the scratcher: It is a must to spray a disinfectant on the whole post once you have cleaned it. Buy a suitable disinfectant for pets that is suitable for the scratcher surfaces. It is a must to clean the cat scratcher regularly based on the usage and the condition of the scratcher.
Training Your Cat To Use The Scratching Post
Even if you buy the best cat scratching post, things may not work out as expected if your cat is not trained properly on how to use it. After the first vital step to buy the best scratching post for your cat, the next is to train your feline friend on how to use it correctly.
Give your pet some time to develop an interest in the new scratching post. Don't get disheartened if your feline friend shows little or no interest in the beautiful cat scratching post you bought for her.
Sometimes, the cats need a bit of coaxing and motivation to go and use the scratching post. Here are some great ideas on how to motivate your cat to take an interest in the scratching post.
Here are a few steps to be followed:
1. Find the right place for the scratching post
Pick the most suitable area in the house to place the scratching post or posts but from the cat's perspective. In order to do that, you need to study the cat scratching behaviors and understand how and where the cats scratch the most. Usually it is the main area of the house with high-traffic.
With this in mind, you can place the scratching posts in the prominent area of the home. However, once your cat has got used to the scratching post, you can shift it to the desired location of your choice so that it does not hamper the décor and is out of the way.
2. Encourage the use of the scratching post
You can protect your furniture, couch, and carpet by placing a heavy blanket or anything suitable on or around them to discourage the cat from scratching it. You can then place the scratching post right in front of her scratching site. That will gradually diminish her interest in the furniture or carpet, and she will start using the scratching post.
3. Play with your feline friend
You can play with your cat around the scratching post to develop her interest. You can buy a cat toy or place her favorite toy at the top of the post that will encourage your cat to reach up and use her paws and claws. In the process, she would come to know that post is a great surface to scratch on.
4. Use catnip to lure your cat
Another good tip is to sprinkle some catnip on the base and top of the scratching post. Even if the cat shows no interest in the best scratching post for a cat, she is sure to go crazy after the cat nip and will lick it and her paws to get to the catnip. When doing so, she will get the feel of the surface and will realize that it is a perfect one for scratching.
5. Bribe your cat with some treats
Every cat loves to get a treat, and you can give her some treats every time she sniffs or plays around the post. Gradually, she will get used to the post for scratching. You can ever put those treats on the post if it has a platform that will prompt her to climb up the post.
Never force your pet to use the scratching post as cats are notorious for having a strong mind. And if they dislike the post you bought for her, you will face a tough time trying to get them used to it.
So, do not manhandle them or forcibly place their paws on the post as negative training methods often backfire.
These are a few important things about cat scratchers, buying tips, their maintenance and training your cat to use them. So, if you are cat owner, you must first understand and accept the cat scratching behavior of your feline friend.
Next, you need to provide her with a suitable cat scratcher to save your furniture and carpets and for the overall well-being of your cat. A cat scratcher is a must buy if you have a cat or multiple cat. You can choose one from the list above and be a proud cat owner.